Artisan Sewing Classes Presents:
Mary Ray – Four Breakout Sessions

Lecture/Trunk Show:
Clothing is Art
Mary presents a collection of her garments and explains the methods and techniques used to produce their construction details and embellishments. She talks about how she finds inspiration and then uses that inspiration to design her pieces. She emphasizes the importance of fabric selection and how to use fabric and style details to enhance the figure. Many of her garments have been featured in Threads Magazine and have won awards and recognition in many wearable art competitions.

Date:  Friday, July 13, 2012
Time:  9:30 AM -11:00 AM
Lecture Fee:  $25.00 – REGISTRATION CLOSED

The Collage Purse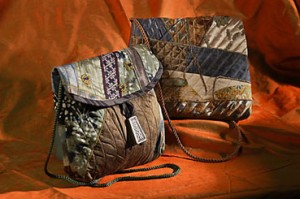 Purses are all the rage and they're easy to make and personalize with your favorite pockets, compartments, and details. In this class you'll make a charming little bag from specialty fabric, that's perfect for evening or daytime, by starting with a rectangle and using collage piecing and machine quilting. Learn how to embellish with beads or machine embroidery.  It's a great project for beginners as well as seasoned sewers.  (Hands-On Class)
Note:  the Edge Finishes class from 6:30 PM – 8:30 PM is the perfect complement to this  class.
Date:  Friday, July 13, 2012
Time:  12:00 PM – 5:00 PM
Class Fee:  $135.00 (ASG and ASDP members get a 10%)
Kit Fee:  $30.00 (Payable to instructor on day of class)
REGISTRATION CLOSED

Combined rate: The Collage Purse Class and Edge Finishes Lecture: $160.00
Edge Finishes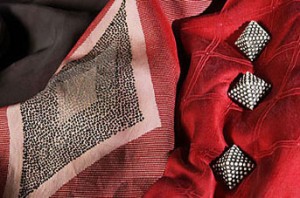 The outer edges and hems of your projects deserve special attention.  In this class you'll learn many ways to a smooth, professional finish – including perfectly turned facings, beautiful bindings, creative closures, decorative piping and applied trims, as well as how to leave edges raw and get away with it. Learn how to give your jackets and other projects beautiful, creative, professionally finished edges; including Mary's bound notched collar and appliquéd binding as well as a one-layer tailored edge and other creative ways to apply facings, hems, and edges.  (Lecture/Demo)
Date:  Friday, July 13, 2012
Time:  6:30 PM – 8:30 PM
Lecture Fee:  $45.00  REGISTRATION CLOSED

Distinctive Details/Interesting Hems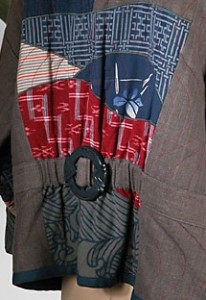 Details can give your garments a look of distinction – and, they're fun to do! Learn how to create and master ruffles, perfectly mitered corners, straight and effective topstitching, unique closures, highlighted darts and seams, functional and decorative pockets, and interesting facings and edges. Simple techniques often produce the most effective embellishment.  In this class, you'll explore numerous ways to create texture, emphasize style lines, add detail, or just jazz up a basic garment using easy-to-do tucks, pleats, and folds.  Learn to make your hems the center of attention with intriguing design ideas and great techniques like adding separate bands that can be endlessly varied or embellished; sculpting interesting shapes with darts and elastic; and using ruffles, pleats, pintucks, godets, and insets to give your hemlines a lift.  You'll learn the secrets of measuring, pressing, and stitching – and get lots of design ideas, too.  (Hands-On Class)
Date:  Saturday July 14, 2012
Time:  8:30 AM – 12:30 PM
Class Fee:  $110.00  (ASG and ASDP members get a 10% discount)
REGISTRATION CLOSED

If you wish to pay for class(es) in full via PayPal email info@artisansewingclasses.com and an invoice will be emailed to you.  Please include your name, address and phone number in the body of the email.  Note there is a 5% convenience fee added for paying via PayPal.  See registration, payment and cancellation policies below.
To make a deposit or pay in full, download this registration form:  Click Here (pdf)
Location: Country Inn and Suites
7860 Plantation Road in Roanoke, Va.
Details: Special room rates of $82.00 per night for 2 queen beds apply for students travelling from out of town. Microwave and small refrigerator in every room. Call the hotel directly at 540-366-5678 to book under the block of rooms saved for Catrina Fashions. This is a quiet location ½ mile from Interstate 81 and 5 miles from the Roanoke Airport. No shuttle service from the airport, cab costs around $15. Free full breakfast for hotel guests. Indoor pool, exercise room or walk to a nice park with walking trails and tennis courts a short distance behind the hotel.
Click to see pictures of the hotel and look at area attractions.
For more information about the class and how to register, please contact:
Genevieve Journell at:
Catrina Fashions, LLC  
P. O. Box 35
Troutville, VA 24175
Call: 540-992-2127
Email: info@artisansewingclasses.com
About Your Instructor:

Mary Ray
Mary has had a long and varied career in the sewing industry.  She has taught at the American Quilters' Society Show, Design With Heart, the American Sewing Guild Conference, the Toronto Creative Sewing and Needlework Show, The Sewing Workshop in San Francisco, Quilting by the Lake in New York State, and Bernina University, as well as guilds and shops around the country. She was an associate editor of Threads magazine and an instructor in the fashion design department of Bauder College in Atlanta, GA.  She is currently an adjunct professor at Appalachian State University.
Mary is a designer of award-winning wearable art that has been featured in shows and galleries around the country.
Early registration is encouraged to secure space in class as well as ensure minimum registration. Class minimums and maximums vary – if the minimum for a class is not met 14 days before the class start date, the class must be cancelled. If the class fills, a waiting list will be established. Please wait for class confirmation before making travel plans other than booking a hotel room.
Registration:
Paypal signup is available. See the Class Fee Policy regarding payment with Paypal. Payments may also be made by check via US mail, email, or by calling (540) 992-2127. Please note that payment or deposit must be received before registration is confirmed. If registering by mail, please fill out the registration form on this page.
Class Fee Policy:
Classes require a 50% deposit, at time of registration. All classes with a fee of $100.00 or less require full payment at the time of registration. The balance is due 14 days prior to the class start date. Partial payment is not available when paying with Paypal. In addition, a 5% convenience fee will apply when paying with Paypal. Materials and kit fees, where applicable, are made payable to the instructor on the day of class.
Cancellation/Transfer Policy:
A 5% transaction fee applies to all class cancellations and transfers. No refunds for missed classes. To receive a refund (less the 5% transaction fee) for a cancelled registration, notification must be given 30 days prior to the class start date. In the event Catrina Fashions, LLC must cancel a class, the student may choose to have a full refund by check or applied to a future class. Catrina Fashions, LLC's liability for refunds shall be limited to the amount of the portion of the registration fee paid by the student.