Artisan Sewing Classes Presents:
Sarah Veblen
Patternmaking is the backbone of creating garments.
There are a number of methods used to develop patterns: flat patternmaking, drafting, draping, copying an existing garment, and enlarging a small-scale pattern. But the purpose of each is the same: to give someone who sews a way to reliably reproduce a garment.
In this 4-day class, Sarah Veblen introduces you to each of these patternmaking methods, so that you understand their differences and have a basic working knowledge of each one. Because flat patternmaking techniques are used in all of the methods, special time and attention will be devoted to learning many flat patternmaking skills.
The class is a combination of lecture, demonstrations, and lots of hands-on exercises. Topics that will be covered include:
Flat pattern techniques such as walking and truing a pattern, truing dart legs, creating notches, re-positioning a dart, dart manipulation and dart transfers, creating dart equivalents, and making full bust and small bust adjustments.
Establishing accurate grainlines.
The difference between industry patterns for ready-to-wear clothing, commercial patterns available to sewing enthusiasts, and custom patterns that dressmakers develop.
Enlarging a half-scale pattern.
Basics of draping a bodice.
Making a pattern from a draped bodice.
Taking a person's measurements accurately.
Basics of drafting a bodice sloper and how to use the draft.
Copying an existing garment.
Date: June 9 – 12, 2012
Time: 8:30 am – 6:00 pm each day
Single Class: $795.00
Take All Three Classes from June 9th thru 15th for just: $1,145.00
CLASS HAS ENDED – LOOK FOR SARAH TO RETURN IN THE FUTURE!!!

If you wish to pay for class in full via PayPal, email info@artisansewingclasses.com and an invoice will be emailed to you. Please include your name, address and phone number in the body of the email. Note there is a 5% convenience fee added for paying via PayPal. See registration, payment and cancellation policies below.
To pay with a deposit or in full, download this registration form: Click Here (pdf)
Location: Country Inn and Suites
7860 Plantation Road in Roanoke, Va.
Details: Microwave and small refrigerator in every room. Call the hotel directly at 540-366-5678 to book under the block of rooms saved for Catrina Fashions. This is a quiet location ½ mile from Interstate 81 and 5 miles from the Roanoke Airport. No shuttle service from the airport, cab costs around $15. Free full breakfast for hotel guests. Indoor pool, exercise room or walk to a nice park with walking trails and tennis courts a short distance behind the hotel.
Click to see pictures of the hotel and look at area attractions.
Please Note: Registration for this class includes the day-long seminar 'The Inter-Relationship Between Fit and Patternmaking' on June 13.
For more information about the class and how to register, please contact:
Genevieve Journell at:
Catrina Fashions, LLC  
P. O. Box 35
Troutville, VA 24175
Call: 540-992-2127
Email: info@artisansewingclasses.com
About Your Instructor: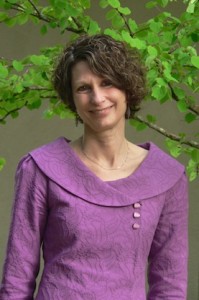 Sarah Veblen
Early registration is encouraged to secure space in class as well as ensure minimum registration. Class minimums and maximums vary – if the minimum for a class is not met 14 days before the class start date, the class must be cancelled. If the class fills, a waiting list will be established. Please wait for class confirmation before making travel plans other than booking a hotel room.
Registration:
Paypal signup is available. See the Class Fee Policy regarding payment with Paypal. Payments may also be made by check via US mail, email, or by calling (540) 992-2127. Please note that payment or deposit must be received before registration is confirmed. If registering by mail, please fill out the registration form on this page.
Class Fee Policy:
This class requires a 50% deposit at time of registration.  The balance is due on first day of class. Partial payment is not available when paying with Paypal. In addition, a 5% convenience fee will apply when paying with Paypal. Materials and kit fees, where applicable, are made payable to the instructor on the day of class.
Cancellation/Transfer Policy:
A 5% transaction fee applies to all class cancellations and transfers. No refunds for missed classes. To receive a refund (less the 5% transaction fee) for a cancelled registration, notification must be given 30 days prior to the class start date. In the event Catrina Fashions, LLC must cancel a class, the student may choose to have a full refund by check or applied to a future class. Catrina Fashions, LLC's liability for refunds shall be limited to the amount of the portion of the registration fee paid by the student.