WORKING IN THE HAUTE COUTURE
Friday, September 14, 2012:
Time: 6:30 PM to 9:30 PM
Format: Slide Show & Trunk Show with Reception
Price:  $25.00
For 3 years Pamela had the distinct honor of freelancing for the Haute Couture design firm of Chado Ralph Rucci, working on both the Paris Haute Couture & NY ready to wear.  In this event, Pamela will share personal stories from her work with Chado, showing actual Chado evening wear and daywear garments she purchased, as well as photographs & mementos from the various seasons.
Pamela will also show you up-close, her fully reversible, hot pink-to-navy silk taffeta cocktail dress from her 1st episode on Project Runway – Season 7.  Meet Pamela in person at the reception following the presentation.  Wear something special or something that you made to this event – Pamela would love to see it!!!
REGISTRATION CLOSED.  THIS CLASS HAS ENDED.  PLEASE LOOK FOR
ANOTHER CLASS IN THE FUTURE.
Location:  Hollins University – Dana Science Building ( Babcock Auditorium), Roanoke, VA
______________________________________________________________________
RADICAL FREE DRAPING™
Saturday, September 15, 2012:
Time: 9:00 AM to 12:00 PM
Format: Lecture & Demonstration
Price:  $60.00
For the curious fashionista or serious draping student longing to create innovative forms, this Master Class consists of demos draped in muslin on the dress form often from a single piece of cloth which winds inside & out to execute it's unconventional shapes, details & silhouettes.  Radical Free Draping™ is a unique form of 3-dimensional thinking that makes for VERY exciting designs which are easy to control once you understand the theories. Methods used in Pamela's classes are not found in fashion design textbooks & require students to set aside conventional "rules" of draping and accept new and unique routes to creativity with cloth.
REGISTRATION CLOSED.  THIS CLASS HAS ENDED.  PLEASE LOOK FOR
ANOTHER CLASS IN THE FUTURE.
Location: Country Inn and Suites, Plantation Road, Roanoke, Va.
Directions: See the MAP below.
______________________________________________________________________________________
'OUT-OF-THE-BOX' RADICAL PATTERN DESIGN™
Saturday, September  15, 2012 :
Time: 1:30 PM to 4:30 PM
Format: Lecture & Demonstration
Price:  $60.00
Ready-to-wear garments can be so much more intriguing than they've been in 50 years and this  Master Class theories in "out-of-the-box" Radical Pattern Design™ will show you how to revolutionize pattern making.  Pamela demonstrates her unorthodox flat pattern making system as she works through a number of garment drafts – teaching you how to think WAY outside of the box. Methods used in her classes are not found in fashion design textbooks and require students to set aside conventional "rules" and explore unique and exciting new routes to creativity with cloth that can be used in garment making as well as other forms of textile art.
REGISTRATION CLOSED.  THIS CLASS HAS ENDED.  PLEASE LOOK FOR
ANOTHER CLASS IN THE FUTURE.
Location:  Country Inn and Suites, Plantation Road, Roanoke, VA

View Larger Map
Details:  Microwave and small refrigerator in every room. You may call the hotel directly at 540-366-5678 to book a room. This is a quiet location ½ mile from Interstate 81 and 5 miles from the Roanoke Airport. No shuttle service from the airport, cab costs around $15. Free full breakfast for hotel guests. Indoor pool, exercise room or walk to a nice park with walking trails and tennis courts a short distance behind the hotel.
Click to see pictures of the hotel and look at area attractions.
For more information about the class and how to register, please contact:
Genevieve Journell at:
Catrina Fashions
P. O. Box 35
Troutville, VA 24175
Call: 540-992-2127
Email: info@artisansewingclasses.com
About Your Instructor: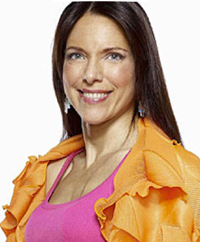 www.pamelaptak.com
photo courtesy of Lifetime Television 
Pamela Ptak dresses modern women in intriguing garments designed to evoke emotion and thrill the intellect. Her dresses, skirts and tops describe the female form in lines, folds & textures which are at once sculptural and wildly flattering. During Pamela's casting for Project Runway season 7, Tim Gunn called her work "…among the most beautifully constructed clothes I've ever seen" and said "I think you are on the cusp of something big."
From '2003-'06 Pamela Ptak free lanced sewing & couture embellishing on the Paris Haute Couture and NY Ready-to-Wear collections for Chado Ralph Rucci. She debuted her PAMELA PTAK 2010 RTW collections at the Van Alyn Mansion in NYC at fashion week and her 2011 collections at Philadelphia Fashion Week. She creates one-of-a-kind pieces for her celebrity & private clientele.
Pamela founded the "Arts and Fashion Institute™" just North of Philadelphia, PA for which she's gathering the best working professionals, technical experts & celebrity guest instructors to offer rare specializations, inspire & teach creativity at the highest level. She personally teaches advanced, graduate level draping & pattern making under her "Radical Free Draping & Pattern Design™ label, fashion illustration, enhancing your creativity, Haute Couture sewing techniques, draping stretch knits, lingerie design, and graduate level corseted evening wear.
Pamela's fashion art was exhibited at Le Musée des Arts Asiatiques in Nice, France, & the Puck Gallery in NYC. Her garments were featured in the one woman show entitled "Line, Texture, Fold: The Art of Pamela Ptak" and in national magazines. She's appeared on Lifetime Television's "Project Runway" season 7, the NFL Network's "Top 10 Uniforms", HGTV's DIY network, ABC's "Extreme Makeover: Home Edition" and she's been invited to host/produce a new cable television program on the arts.
As a collector, educator & fashion scholar, Pamela maintains & curates a private collection of unusual major designer fashions which she uses in trunk shows & lectures to inspire the next generation of fashion designers & collectors at colleges, museums & sewing groups across the country.
www.ArtsAndFashionInstitute.com
www.Strive2Inspire.com
Registration:
Early registration is encouraged to secure space in class as well as ensure minimum registration. Class minimums and maximums vary – if the minimum for a class is not met 14 days before the class start date, the class must be cancelled. If the class fills, a waiting list will be established. Please wait for class confirmation before making travel plans other than booking a hotel room.
Paypal signup is available. See the Class Fee Policy regarding payment with Paypal. Payments may also be made by check via US mail, email, or by calling (540) 992-2127. Please note that payment or deposit must be received before registration is confirmed. If registering by mail, please fill out the registration form on this page.
Class Fee Policy:
Classes require a 50% deposit, at time of registration. All classes with a fee of $100.00 or less require full payment at the time of registration. The balance is due 14 days prior to the class start date. Partial payment is not available when paying with Paypal.  Materials and kit fees, where applicable, are made payable to the instructor on the day of class.
Cancellation/Transfer Policy:
A 5% transaction fee applies to all class cancellations and transfers. No refunds for missed classes. To receive a refund (less the 5% transaction fee) for a cancelled registration, notification must be given 10 days prior to the class start date. In the event Catrina Fashions, LLC must cancel a class, the student may choose to have a full refund by check or applied to a future class. Catrina Fashions, LLC's liability for refunds shall be limited to the amount of the portion of the registration fee paid by the student.
Participant Release:
The student acknowledges the company may publish their name and photographs, and / or videos taken of the likeness, for use in the company's print, online and video-based marketing materials, as well as other company publications. The company is released and held harmless from any reasonable expectation of privacy or confidentiality associated with the images specified above. The student further acknowledges that class participation is voluntary and that same will not receive financial compensation of any type associated with the taking or publication of these likenesses or participation in company marketing materials or other company publications and acknowledges and agrees that publication of said likeness confers no rights of ownership or royalties whatsoever. The student hereby releases the company, its contractors, its employees, and any third parties involved in the creation or publication of marketing materials, from liability for any claims by same or any third part in connection with class participation.
Note: If participant is a minor child, a parent or legal guardian of the child must acknowledge full authority to authorize Catrina Fashions, LLC use of minor child's likenesses and/or name.